YMCA Camp Campbell teach youth science while encouraging a love and respect for the outdoors. Our experienced staff lead youth through educational activities, classic camp bonding experiences, and nature inspired learning opportunities. 
Contact YMCA Camp Campbell staff at redwoods@ymcasv.org or 831-338-2128.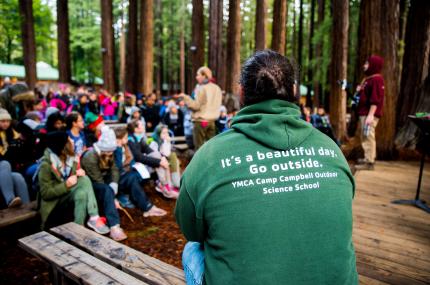 About Outdoor Education
Education comes to life at our Camp Campbell Outdoor Science School (CCOSS) where 5th and 6th grade students experience the thrills of nature through hands-on lessons and activities. We foster a love for nature and the outdoors, and the development of attitudes and practices that build character and awareness for the environment—all amidst the fun of campfires, songs, and meaningful relationships.
FREQUENTLY ASKED QUESTIONS
My child is attending outdoor school, can I visit Camp Campbell ahead of their trip?
We are a private facility so all tours must be scheduled. Please contact the main office if you are interested in visiting.
Why is Outdoor Education important?
Environmental education at Camp Campbell Outdoor Science School is an extension of classroom curriculum. Just as students go to the lab to study chemistry or to the gym to study physical education, students need to go the outdoors to learn best how the environment operates. Students see, feel, hear, and smell the realities of nature.
What kinds of topics are covered in the curriculum?
While lessons vary according to individual field teachers, weather conditions, specific class needs, and inspiration of the moment, these core concepts are common to the experience of all students:
Adaptation
Interdependence
Cycles/Changes

Community
Ecological Responsibility
Conservation
Functioning ecosystems investigated:
Riparian and lotic aspects of the San Lorenzo River, and the unique characteristics of the redwood forest, mixed evergreen forest, chaparral and meadow communities.
Experiential strategies and activities like observation, measurement, sampling, sensory experience and interpretation, and comparative investigations.
Fundamental ecology and resource management concepts in ever field study.
I am a teacher/principal interested in bringing my school to Camp Campbell where can I learn more?
We would love to talk with you about hosting your school. Please contact us at redwoods@ymcasv.org to talk with our program team. You can also review our Teacher Guide for more information.