We are now accepting applications for the 2023-24 school year!
YMCA Camp Campbell's Outdoor Science School engages youth in science while encouraging a love and respect for the outdoors. Become a cabin leader to join our team of mentors, guiding youth through educational activities, classic camp bonding experiences, and nature-inspired learning opportunities.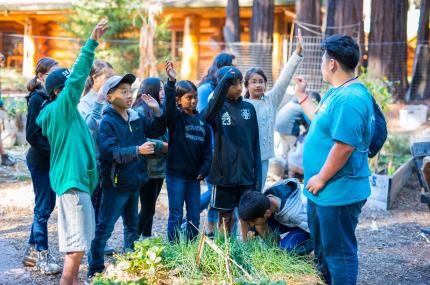 Enhance Your Leadership Skills
Cabin Leaders spend 5 days in the redwoods (typically Monday-Friday) helping make outdoor school a positive and safe environment for students. Cabin Leaders receive a full day of training before students arrive. In training you will learn behavior management, child abuse prevention, appropriate games to play and stories to tell, and much more. To be a cabin leader you must be at least 15 years old, in 10th grade or greater, and in good academic standing.

FREQUENTLY ASKED QUESTIONS
How do I apply to be a volunteer Cabin Leader?
How will I know if I have been accepted?
Accepted volunteers will be notified via email with registration instructions.
What are the benefits of being a volunteer Cabin Leader?
Earn Service Learning credit to graduate

Impact children's lives in a positive and effective way

Spend quality time away from home

Learn to be a leader and a positive role model for kids

Meet peers with similar interests

Enjoy the beauty of the Santa Cruz Mountains

Plus meals and lodging are included
How do I get to Camp Campbell?
Camp Campbell is located in the Santa Cruz Mountains, 16275 Highway 9, Boulder Creek CA 95006. Please e-mail cabinleader@ymcasv.org if you need assistance with transportation.
What kind of training do Cabin Leaders receive?
Cabin leaders spend their first day at camp in training learning behavior management, child abuse prevention, age appropriate games and stories and much more. 
When are volunteer Cabin Leaders needed?
Cabin leaders are needed throughout the school year, from September to June. The application will allow you to apply six weeks prior to your preferred week.