YMCA of the Redwoods customizes exciting outdoor activities designed to enhance individual and team growth. Our experienced staff guides your group through activities to strengthen group cohesiveness, improve confidence, communication, and trust. We tailor activities to fit each group's goals and objectives and adapt activities to accommodate various physical abilities.
Plan a team building retreat for one day, or enjoy a full weekend retreat.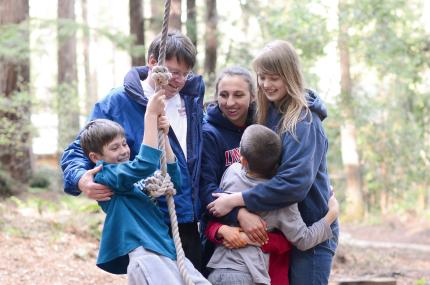 Low Ropes Course
Our Low Ropes Course is designed with team dynamics in mind to be unique, challenging, and fun for its participants. Coupled with active facilitation, our low ropes program brings your team together, developing a dynamic that breaks down barriers and helps your team perform successfully together.

This 2-5 hour activity consists of five individual elements, 6-18 inches off the ground. As participants go through each element, their team members act as "spotters," providing physical support to help each individual and their team complete the challenge.

With our trained staff by your side, your group will be supported during each activity and multiple elements. Each element has a different style, difficulty and purpose depending on your group.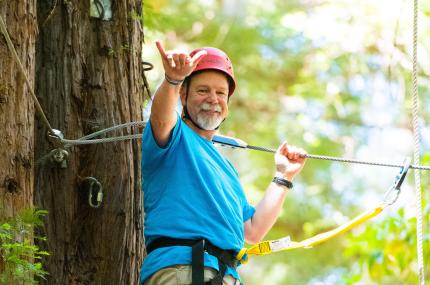 High Ropes Course
Our High Ropes Course is attached to giant redwood trees, at a thrilling 35 feet above ground. To ensure safety, our staff supervises each activity and all participants wear a body harness attached to a belay system. This activity consists of seven individual elements, including a 150-foot zip line ride. Each element of the course is designed to build personal confidence that trumps trepidation even in the most stressful situations. Each member of your team will leave feeling proud of themselves, and bonded together through overcoming their fears side-by-side.