Explore. Learn. Grow.
Summer means lots of time in the great outdoors, making memories with friends old and new, learning and trying new things, and having a blast at camp! This year is no different. You can trust the Y to deliver safe programs that allow for lots of fun and friends.
Day camp offers your child adventures, outdoor exploration, and the chance to make friends while developing new skills. Campers exercise their independence and decision-making skills while learning caring, honesty, respect and responsibility. 
With dozens of day camp options, there is a camp perfect for youth of all ages and interests. Learn about space, get creative in the kitchen, design your own fashion line, build robots, or take center stage. All YMCA camps will offer your child the chance to get outside, eat healthy, make new friends, and have an incredible summer.
Make Memories
YMCA Camp Campbell provides developmental experiences in fun ways to help young people thrive.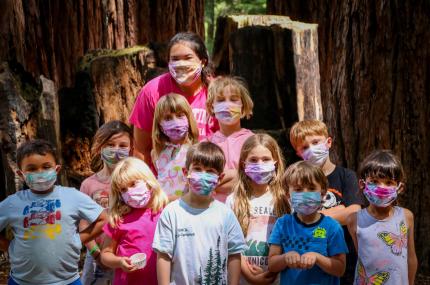 Summer Day Camps
Day Camp programs will be run at YMCA Camp Campbell in Boulder Creek. Campers will be placed in a group based on age and remain with that group for the duration of the camp program. The day camp program will heavily revolve around the activity interest and will include instruction, consistent staff, focus on health and safety, plus a whole week of camp fun!
HEALTH & SAFETY INFORMATION
Please leave your child at home if they are exhibiting new signs of cold or flu - such as cough, shortness of breath, sore throat, nausea, vomiting, diarrhea, tiredness, chills, headaches, muscle/body aches, confusion, or loss of taste/smell. 
Parents will be required to arrange a pick up within 1 hour of being contacted their child is not feeling well
Staff Training and Development
Our staff are hired based on American Camp Association guidelines including formal interviews, experience, training and extensive background checks. All staff members are CPR and First Aid certified and participate in multiple days of trainings that include health and safety procedures as well as thorough programming and leaderships trainings. 
FREQUENTLY ASKED QUESTIONS
What is a sample Day in the Life of Campers Like?
Daily Schedule
7:30-9:00 am Extended hours 
9:00-9:30 am Opening activity 
9:30-10:00 am Group game 
10:00-11:00 am Activity 1 
11:15 am-12:15 pm Activity 2 
12:30-1:30 pm Lunch
1:30-2:30 pm Pool Time
2:45-3:45 pm Activity 3 
3:45-4:00 pm Snack
4:00-4:30 pm Group game 
4:30-5:00 pm Closing activity 
5:00-6:00 pm Extended hours
What are some of the activities day campers can participate in?
Activity Options: 
Archery
Arts and Crafts
Basketball
Climbing Wall
Dance
Disc Golf
Drama
Drawing
Field Games
Football
Gardening 
Guitar
Gymnastics
Hikes
Jewelry Making
Low Ropes 
Martial Arts
Outdoor Cooking
Outdoor Skills
Painting 
Soccer 
Softball
Street Hockey
Swim Instruction
Tennis
Ukulele
Volleyball
Water Games
Yoga