YMCA Camp Campbell sets the perfect backdrop for the wedding of your dreams. Located in the Santa Cruz Mountains, in the heart of the redwoods, we offer the perfect unique experience. With single day wedding services as well as three day weekend wedding packages, our professional staff will work with you every step of the way to execute your wedding vision.
We offer single day , small gathering and three day wedding packages. If you would like to learn more contact redwoods@ymcasv.org or 831-338-2128.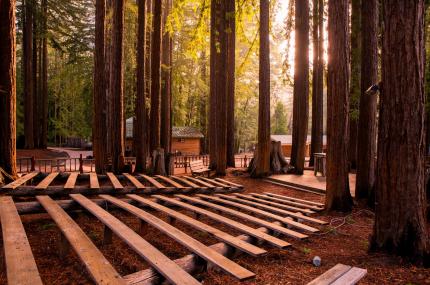 CEREMONY LOCATION
Get married in a spectacular outdoor setting surrounded by a beautiful grove of redwood trees with seating for up to 150 guests.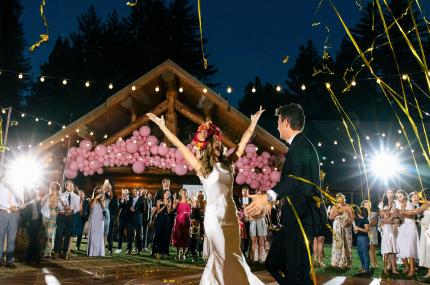 TESTIMONIALS
"My husband and I have been dreaming of our big day for 12 years, and always envisioned being outdoors. I cannot say enough good things about how gorgeous this place is! An outdoor chapel in the redwoods, a wood lodge, and string lights, it doesn't get better than that!" Sara via WeddingWire

"Our guests said they had never had so much fun at a wedding and everyone was sad to leave once Sunday rolled around. The staff was great, friendly, and always smiling. Everything went smoothly." Rachel via Yelp

Frequently Asked Questions
Everything you need to know about hosting your perfect day at YMCA Camp Campbell.
What is included in the facility fee?
Tables, chairs, flatware, and silverware
Access to activities, including; (*Age requirement 11+, °Additional fee)

Archery
Arts and Crafts
Basketball
Campfire with S'mores
Climbing Wall°
Disc Golf Course
Hikes
High Ropes Course*°
Soccer
Softball
Street Hockey    
Swimming Pool & Water Slide°
Tennis
Water Volleyball

Trash pick-up and disposal, recycling, parking assistance, and maintenance of the grounds for your weekend
Firewood
Can we bring our family to tour the site?
We are currently working with couples individually to set up access to see camp before your wedding (virtual tours, off hour tours etc.). Once your wedding is booked we are happy to set up a longer tour/visit. 
 
What wedding dates are available?
Please contact our Event Manager at redwoods@ymcasv.org for the most up-to-date availability.
What is the alcoholic beverage policy?
YMCA Camp Campbell does not possess a liquor license, and does not vend alcoholic beverages. You may provide alcoholic beverages to your guests if your group or event insurance includes an alcoholic beverage clause.
You may provide beer and wine only - NO HARD LIQUOR YMCA Camp Campbell will issue fines to the contract holder if hard liquor is found in your group's possession.
YMCA staff will not vend, transport, serve or setup alcohol/bar area.
There are no corkage or usage fees.
YMCA Camp Campbell recommends hiring a bartending service to help with all transportation, setup and service of alcohol.
 
Can we bring our own food or caterer?
No, as required by our Health Department license, we must provide all food service, though you may bring pre-packaged snacks for your group. There is a refrigerator and microwave available guests to store personal items.
 
Basic food service is included for overnight guests in your overnight rates. Upgraded and custom menus may be available upon request for an additional cost. 
We offer buffet service only. 
Food is served in pre-designated areas ONLY. We will not transport food away from our main kitchen spare or our designated service areas as it violates health codes. 
Dietary restrictions and allergen-free food service can often be provided by camp. Communicate your needs to our Even Manager via phone or email. 
Are coffee and tea available?
Coffee and tea are provided only during meal times. Any needs beyond that will be considered on a case by case basis at additional cost. Please note that the Y supports Healthy Living Standards and does not serve hot chocolate or caffeine to children under 18.
 
Do you have water or cold beverages available throughout the day?
Drinking water dispensers are available 24 hours a day in the dining hall and all of the sinks at Camp Campbell are safe drinking water sources. Please encourage your group to bring reusable water bottles for use during non-meal times.
Milk is always available during meals. If your group would like any beverages beyond milk, water or juice at breakfast, please plan on providing that.
 
Can we set up and decorate?
Yes, your party is free to decorate, but set up or decorating time must be built into your contract 

No nails, staples, painting, or gluing is allowed for decorative purposes. 
All decorations must be approved in advance by YMCA Camp Campbell.
Candles are allowed, but must be enclosed.

The YMCA does not provide decoration materials other than ladders for you to hang decor. 
Yes, and we encourage you to do so in our designated campfire areas. Firewood and s'mores are provided. (An additional charge may apply, depending on your wedding package.) 
Can we bring own audio/visual equipment?
Yes, you may bring your own audio/visual equipment, we can also support your audio/visual needs.
 
What accommodations are available?
We can accommodate up to 250 guests in our cabins.

Each cabin sleeps at least 14-18 guests. TreeTop cabins and 49er cabins include restrooms and showers.

We can provide linen packs for $30 per person.

Specific cabin assignments are your responsibility.

Our Event Manager will provide a cabin assignment spreadsheet to assist with this process once she has your estimated number of overnight attendees.

Our overnight minimum is 50 guests for one night. 

Should you need to cancel or change your date, contact the Event Manager via phone or email regarding the change.

Your group will be financially liable for the cost of the minimum booking if we cannot re-book your reserved date.

The contract holder is responsible for all individual guest cabin bookings. We recommended setting up a PayPal account or Venmo to help with that process.
How many wedding guests can your space accommodate?
Overnight accommodations: 250 guests
Outdoor Chapel: 150 guests (seated) plus standing room
Swenson Family Lodge:

Main dining hall: 250 seated guests
Two adjoining rooms: 80 guests per room
Is my group able to stay passed 12:00 p.m. on Sunday?
No. In order for staff to clean for the upcoming week, everyone needs to be off site by noon on Sunday. An additional fee of $100 per each half hour guests stay beyond 12:00 p.m. on Sunday will be charged to the contract holder.
Do I need event insurance?
Yes, you must obtain event insurance. Additionally you must name YMCA Camp Campbell as an additional insured for a minimum of $1,000,000. You may obtain the event insurance through your homeowner's policy or from wedsafe.com.
What is the deposit policy?
You will be responsible for 25% of your minimum booking in order to reserve your date on our calendar. The remaining balance is due 30 days after your event.
All deposits are non-refundable, and in the event of a cancellation, we retain all deposits.
 
With the exception of certified service/guide dogs, no animals are allowed.
 
Who are your preferred vendors for table linens, plates, glasses, etc?
Ask our onsite wedding coordinator for recomendations. 
How late? How loud? Are there restrictions on amplified sound?
A Santa Cruz municipal ordinance specifically states that quiet hours are between 10PM and 8AM, 7 days a week.  During these hours, we do not allow amplified sound outside of camp buildings—this includes sound systems, musical instruments and yelling, screaming or singing loudly.  Indoor amplification is okay, as long as the volume does not exceed 45 decibels and does not continue after 12AM. Guests are liable for any/all fines or complaints filed while on site. Please ask our Wedding Coordinator for more information regarding YMCA Camp Campbell's noise policy.

We understand you and your wedding guests want the most out of your wedding weekend so at the start of the 10PM quiet hours we allow for activities to continue in our Fireside Room in the dining hall until 12AM. At 12AM all music and noise must stop completely, guests who are not sleeping on site must leave the premises and on-site guests must return to their cabins for the night.
 
Is tent camping or RV parking available on site?
No. YMCA Camp Campbell is not a KOA or other public camping ground. We are a private camping facility, and are not insured for or set up to support tent camping or RVs.

YMCA Camp Campbell has Tent Cabins that are available for rent from May-October. Please talk to the Wedding Coordinator for more details on renting the Tent Cabins.
 
Yes! Our camp store is fully stocked with essential camping items like flashlights and toothpaste, and also has awesome Camp Campbell apparel available. The camp store can be opened for your group,  please communicate with on-site YMCA staff if you would like it open additional hours.
 
How does it work to share the site with another group?
Without purchasing site exclusivity there is a good chance you will be booked during a weekend with another group.

YMCA Camp Campbell is equipped  to host multiple events at once, with two separate lodging areas allowing you your own space to sleep, relax, and have nightly campfires.

Meals, other than your rehearsal and reception dinners, will be served buffet style and shared with other groups. We will designate tables in the dining hall and guests are welcome to take their plates and eat on the porch if the weather is nice.

For your ceremony and reception dinner, you will have your choice of locations. We will program the other group into a different part of YMCA Camp Campbell to insure privacy for your special event.
 
What are we responsible for during our time at YMCA Camp Campbell?
You are directly responsible for supervision on-site for your group for the duration of your stay.
Please be prepared to be the primary contact for any guests who may need to contact you.
An on-site Wedding Coordinator will be available in the event of an emergency for the duration of your stay.
Should your group anticipate the need for medical staff, please provide the necessary people and equipment for the duration of your stay. Camp Campbell does not employ on-site medical staff for guest bookings, nor are we liable for emergency medical needs on-site for guests.
In the event of an emergency, any EMS, evacuation or transport, medical, or law enforcement personnel and services required by a guest group will be the client's responsibility.
Camp provides program and food service staff to run activities and meals.